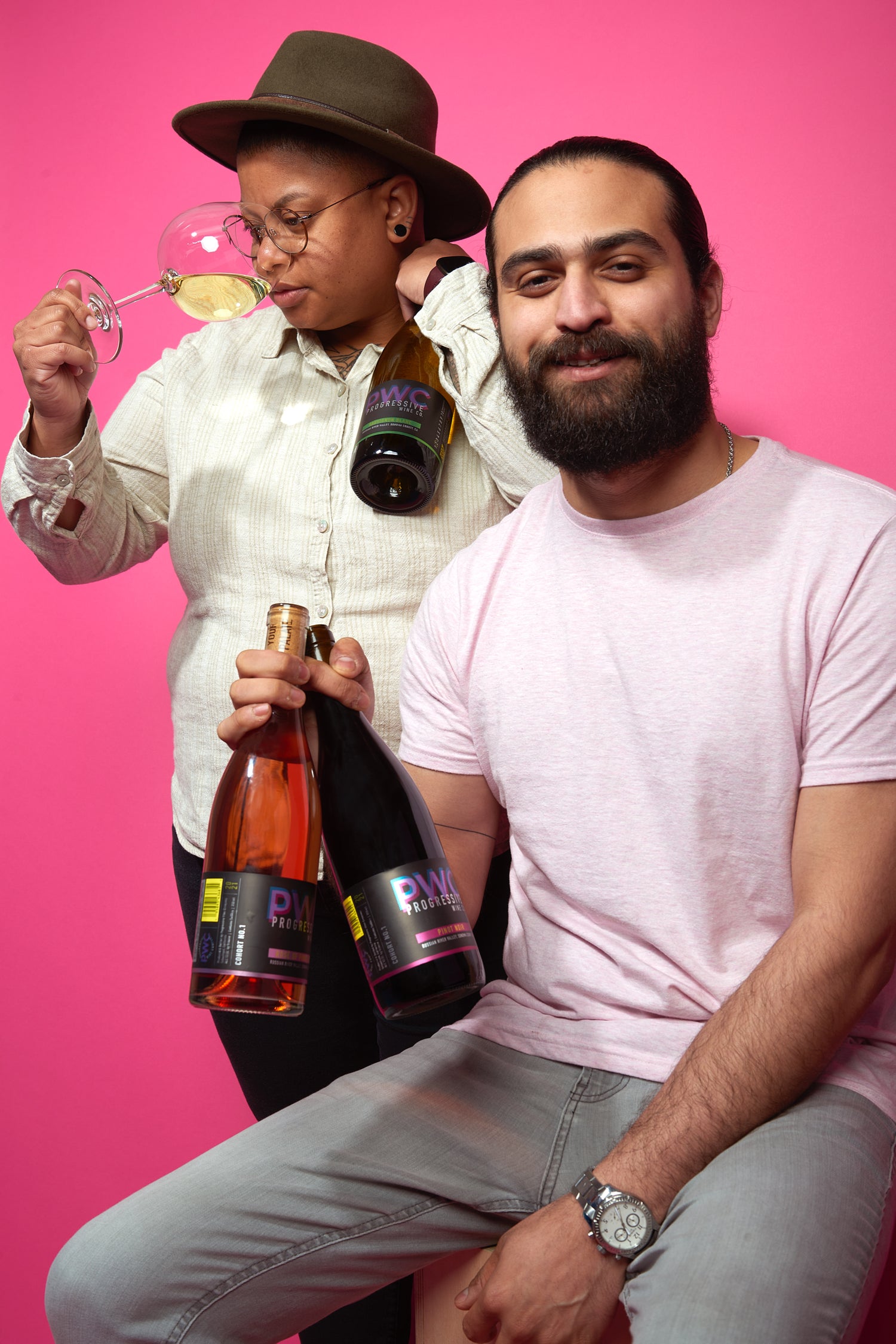 Increasing Diversity in the Wine Industry.
Founded in 2020 by TJ and Hadley Douglas, The Urban Grape Wine Studies Award for Students of Color uses the three-pronged approach of education, work experience, and mentorship to break down barriers to the beverage industry, to create opportunities for career advancement, and to prepare BIPOC students for long and prosperous careers in the wine industry.
The goal of the program is to create career-focused opportunities for its participants to grow generational wealth while increasing diversity in the wine industry.
One dollar of every bottle and piece of merchandise sold goes to support our program recipients. As part of the team that makes PWC's wines, current interns pave the way for future cohorts to join them in the industry.
Read More
Education

Participants in the program complete four levels of education at the Boston University Certificate Program in Wine Studies. These full semester classes include seminars and tasting sessions, and provide a working knowledge of wine varietals and regions, the history of wine, and the wine industry.

Paid Internships

During the program, participants complete four paid industry internships with our partners The Urban Grape, MS Walker, and Row 34 in Boston and Ross Road Custom Crush in Sonoma. This allows our participants to learn four sides of the beverage industry: retail, restaurants, distribution, and winemaking. From here, our students are able to clearly evaluate which segments of the industry interest them most for career opportunities.

Mentorship

A key component to any successful educational program is mentorship. Learning how to navigate the beverage industry, create opportunities for growth, and plan for long term success in a new career are all key components to this program's success. Mentorship meetings take place every two weeks throughout the program.

Job Placement

Upon completion of the program, participants use industry connections for informational and job interviews and are supported throughout the job placement process. Particular emphasis is given on finding jobs with career advancement opportunities.
2020, Suhayl Ramirez + Amanda Best

After their successful completion of the program, Suhayl was hired as the Director of Customer Engagement at Trois Noix Winery in Napa, and Amanda was hired as the Communications Coordinator for O'Donnell Lane, based in Sonoma.

2021, Tatiana "June" Glenn + Victor Medina Ferrer

June and Victor joined the program in 2021 and will graduate in 2022. Victor is keeping his career options open, while June has her eyes on a career in winemaking.

2022, Allie Kuo and Carmen Lucia "Lucy" Almirudis Penunuri

While Allie is our youngest recipient, she already knows that she wants to be a powerful voice in the movement to make the wine industry less homogeneous. Lucy has a passion for restaurants and knows that her year in the program will propel her to new heights in the industry.
Doing Good by Drinking Well
$1 of each bottle sold supports our deeper purpose of changing the wine industry one vintage at a time.
Shop Wines